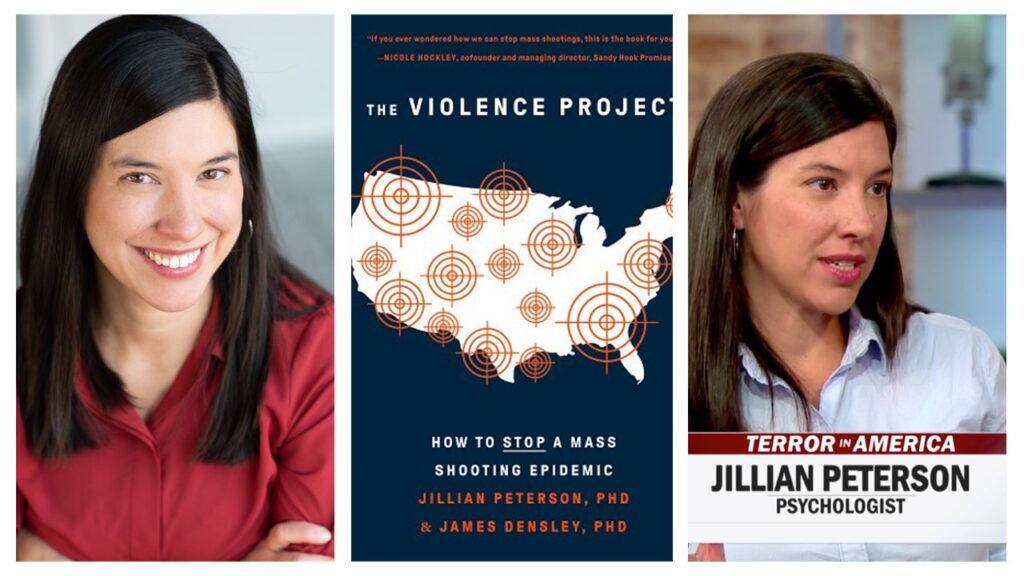 Forensic Psychologist Violence Prevention Research & Practice
Dr. Jillian Peterson is a Professor of Criminology and Criminal Justice and Director of the Forensic Psychology Program at Hamline University in St. Paul, Minnesota. She holds a MA in Social Ecology and a PhD in Psychology and Social Behavior from the University of CA, Irvine.
Dr. Peterson was the principal investigator, along with Dr. James Densley, on a three year grant from the National Institute of Justice examining the psychosocial histories of public mass shooters. Her book based on this research, The Violence Project: How to Stop a Mass Shooting Epidemic is the winner of the 2022 Minnesota Book Award for nonfiction.
Dr. Peterson is a national speaker, consultant, and media commentator on issues related to violence prevention, mass shootings, mental illness and violence, cyberviolence, and crisis intervention. She co-founded The Violence Prevention Project, a nonpartisan, nonprofit research center dedicated to reducing violence in society through research and analysis.
Dr. Peterson previously worked as a special investigator for the New York Capital Defenders Office, where she researched life histories of men facing the death penalty in New York City for their sentencing hearings.